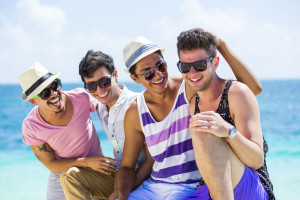 CMI has supported the LGBT tourism and hospitality industries with LGBT research, conferences and training since our founding in 1992!
The facts are plain: LGBTs travel more, spend more and have the largest amount of disposable income. Undaunted by events in the news, LGBT travelers make up 5% to 10% of the travel industry—or more. Most critically, their travel dollars go to suppliers and destinations that recognize their unique buying preferences and offer them differentiated value.
Community Marketing & Insights (CMI) has been helping tourism and hospitality industry leaders master the subtleties of this market since 1992. Whether your organization is just learning about the market or is updating its strategy, CMI can accelerate your plans, reduce your risks and deliver measurable results. Because LGBTs comprise a "slice" of the world's population, you'll find markets for singles, couples and families in every ethnicity. And you'll find a world of diverse interests, from rodeo to golf to snowboarding, from outdoor adventure to mega-parties to theatre. CMI's proven, powerful portfolio of services helps deliver your targeted markets.
Community Marketing & Insights has earned its position as the global leader in LGBT tourism market research and communications planning. Through the company's tireless efforts since 1992, "doors have opened" around the world for LGBT travelers. We have helped grow market recognition through research, media relations and education; and have brought marketing opportunities to the world's leading LGBT-welcoming destinations, hotels and travel suppliers.
Besides its rapidly growing Community Marketing & Insights research practice, we produce the "Annual LGBT Tourism & Hospitality Conference," now in its 17th year, and regional seminars and symposia. We also developed and operate the TAG Approved® Accommodations program with its 1,000+ members worldwide, the LGBTCVB (LGBT Convention & Visitors Bureau) featuring leading destinations working to attract LGBT visitors. As we look forward, we see our partnership with travel suppliers, hospitality leaders, Government Tourism Offices, Convention & Visitors Bureaus and Destination Marketing Organizations continuing to grow, ultimately helping to create a more welcoming "LGBT-friendly" environment for travelers worldwide.