Thomas Roth and David Paisley, leaders of the Community Marketing & Insights team, have developed and presented LGBT educational workshops and training sessions since 1993.
With broad client services experience, as well as over two decades of conducting LGBT market research surveys and focus groups, Mr. Roth and Mr. Paisley speak from a level of experience that is unmatched today. Community Marketing's workshops are customized for each presentation, and bring this lively, interactive and thought-provoking topic to any educational environment.
Attend scheduled CMI training, workshops, webinars and conferences

CMI is Producing the 11th Annual LGBT Marketing & Advertising Symposium @ Google NYC:
For our clients and colleagues, please plan to attend CMI's 11th LGBT Marketing & Advertising Symposium. May 17, 2018 at Google New York City.  
Contract with CMI to produce custom LGBT workshops/training for your company or organization (onsite or via webinar).



Mr. Roth and Mr. Paisley offer a range of 20 to 60-minute presentations and keynotes, all the way to 2 or 3-hour interactive workshops. We can produce both live and webinar/remote presentations.
Cost-Effectively Reach—and Professionally Serve—the LGBT Communities
Learning from Case Studies: What makes a product, service or supplier "LGBT-Friendly?"
Market Research Review & Interpretation: Trends and insights from two decades of LGBT market studies
Best practices in LGBT communications and customer service
LGBT is not a singular market: Exploring and understanding the "Diversity within LGBT"
How to measure, gauge and maximize LGBT Return on Investment
Custom presentations may be organized on your behalf, to fit any agenda and schedule.
Example 1: How To Cost-Effectively Reach—and Professionally Serve the LGBT Community
This is our "LGBT Marketing 101," a comprehensive and very practical orientation to your opportunities in the global LGBT market place. Discussion includes a review and interpretation of CMI's LGBT market research, including industry trends and projections. Learn what "LGBT-friendly" means, and how you can ensure that your company or organization is perceived favorably. Make your initiatives a sure success by using our marketing and publicity tips, based on over two decades of advising industry leaders. This session will be valuable to all attendees, but is especially recommended for newcomers to the LGBT market.
Example 2: Case Studies. Learn from the Successes of Market Leaders Around the World
Take a virtual "LGBT world tour" through the presentation of advertising from product and service providers around the globe. Save time and resources by learning from the successes and challenges of your colleagues. "The LGBT Market" is being discussed in marketing planning sessions everywhere. How do you fit in? How can you compete? How can you stretch limited funds and make an impact? What are the opportunities... and risks? You'll find these answers and more in this lively, interactive session. Valuable for newcomers and LGBT market veterans alike.
See below for a list of conferences and events at which CMI has had speaking roles!
Contact Community Marketing & Insights for more information:
Email or call us at 415/437-3800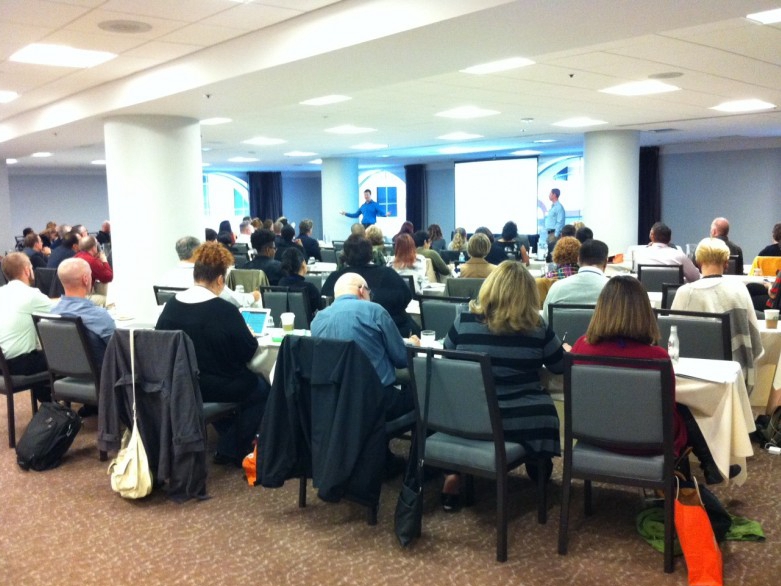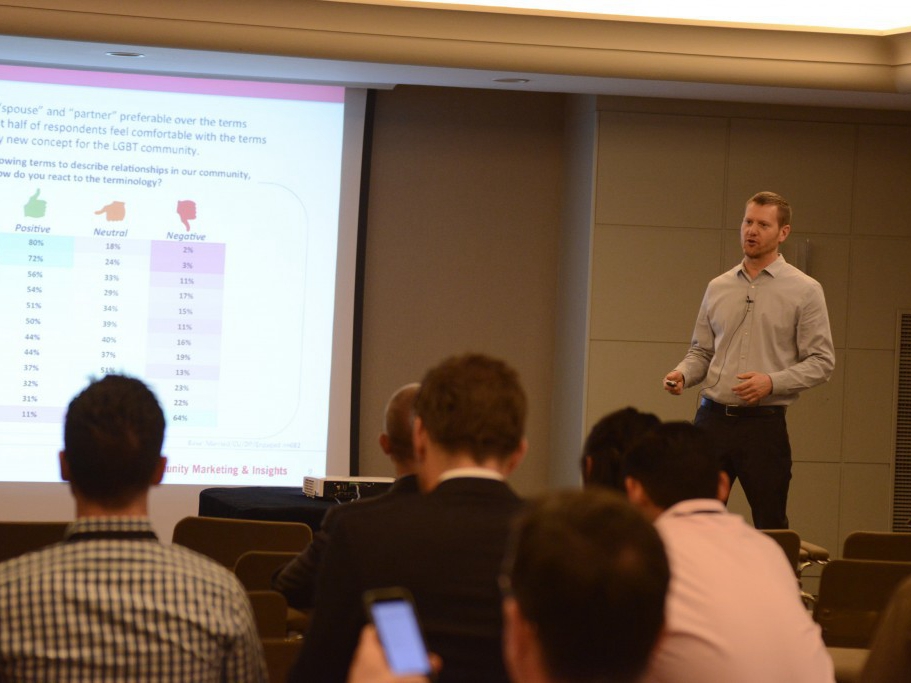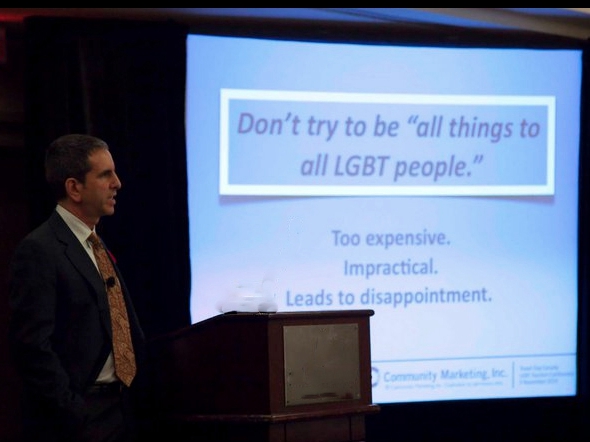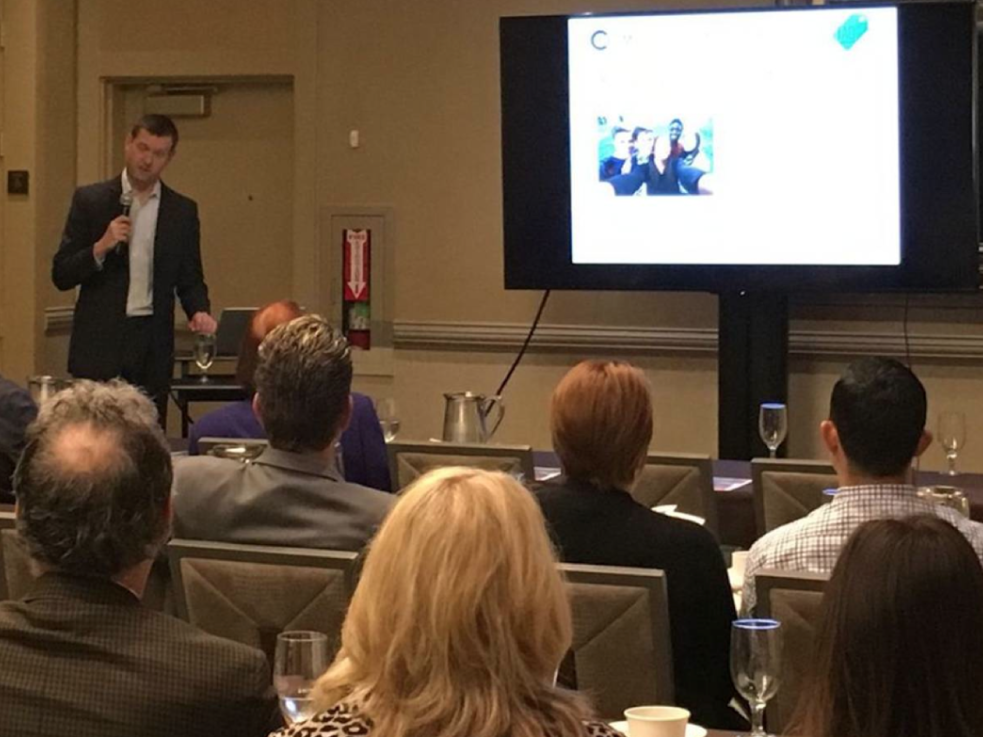 Community Marketing leaders have had the honor of addressing the attendees and delegates of these and other market-leader events:
ABAV, Rio de Janeiro and Sao Paolo
Advertising Research Foundation
Multicultural Health National Conference
Insights Association (formerly Market Research Association)
American Marketing Association
Association of National Advertisers
World Travel Market (inaugural sessions on LGBT travel)
Brand Activation Association
Search Marketing Expo
European Travel Partnership, Barcelona
Luxury Marketing Council
ITB, Berlin (multiple)
ITB Asia, Singapore
International Association of Business Communicators
PRSA Public Relations Society of America
NTA
ATME
HSMAI
IMEX
TTI
MPI
DMAI
PATA
ACTA Canada
Travel Weekly
TTRA Global Travel Outlook Conference
IGLTA (multiple)
Tourism & Leisure Studies Conference
Hotel Diversity & Inclusion Conference
Caribbean Tourism Organization Conference
InterPride
Equality Forum
Out & Equal (multiple)
NGLCC (multiple)
NAGLREP
IGLCC
TTRA
OneWorld Travel Market
Travel Gay Canada (multiple)
GNetwork360 Buenos Aires, Argentina (multiple)
GNetwork360 Sao Paolo, Brasil
LGBT Confex, Mexico City
California Tourism Commission
Massachusetts Governor's Conference
Minnesota Governor's Conference
New Jersey Tourism Conference
Florida Governor's Conference on Tourism
FADMO
Hawaii Tourism Authority
Tourism Ministry of Brasil
Houston Tourism Summit
Travel Alberta Conference
...and produced and delivered custom, dedicated client-sponsored workshops for these companies and destinations:
Blue Cross/Blue Shield
Prudential
Union Bank
Johnson & Johnson
United Airlines
Hyatt
London
Zurich
Bern
Stockholm
Gold Coast, Australia
Vancouver
Victoria, BC
Toronto
Halifax
San Francisco
Palm Springs
Los Angeles
San Diego
Portland, OR
Seattle
Las Vegas
Phoenix
Minneapolis
Fort Lauderdale
Key West
New York City
Atlantic City
Philadelphia
Lancaster, PA
Loudoun County,  VA
Detroit
Rochester
Provincetown
Louisville, KY
Cincinnati