Community Marketing & Insights produces orgignal, custom studies directly for clients across many industries, organizations, universities and government institutions. We also partner with some of the leading market research firms to supply LGBT panelists and support services for their studies.
Please use the "Quote" forms linked above to inquire.
Download and print CMI's 2016 LGBT Panel Profile sheet.
About the CMI Panel
Over the past 25 years, CMI has developed the world's most community-representative panel for a variety of LGBT research methodologies. Corporations, government agencies, non-profits, universities and other research firms all utilize CMI's panel resources because of its size and flexibility. CMI can assist with research projects requiring thousands of participants, and we can deliver on smaller projects requiring targeted segments within LGBT. For example, CMI was able to recruit for projects needing 1,200 men living with HIV, 200 LGBT African American Millennials in urban U.S.A., and 750 transgender community members. We also produce qualitative projects that are challenging­—or impossible—for other research groups to achieve.
CMI has developed our panel through authentic partnership and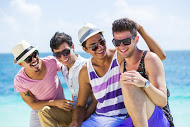 trust within the LGBT community. CMI never uses the panel for sales or marketing purposes. Panel members have the direct email addresses of their project's Research Director. We protect panelist confidentiality, and we respond to study questions, concerns and feedback within 24 hours. Since CMI is a specialized LGBT-owned and operated company, established in 1992, we have earned a level of confidence and trust that can only come from being members of the community. As distinct from other panel approaches, we actually have a very personal relationship with our panelists, who are willing to open up and honestly share genuine experiences, sensitivities, opinions and motivations with us. They know that the results from the research will be used for the betterment of the LGBT community.
CMI's Panel consists of over 70,000 self-identifying LGBT community members, which includes:
50,000 LGBT panelists in the United States
6,500 LGBT Canadians (includes English and French speaking)
4,500 LGBT Chinese
Capabilities in the UK, Germany, Australia and other countries

In the United States, the CMI panel has significant numbers in every LGBT segment
20,000 lesbian and bisexual women
30,000 gay and bisexual men
1,500 transgender community members
5,000 bisexual community members
5,000 with income over $150,000
5,000 with income below $25,000
15,000 representing LGBT communities of color
15,000 LGBT Millennials
Thousands of men living with HIV (Note: All health-related data is maintained independent of personally identifying information.)
Participants in all 50 states with ZIP code-level geographic targeting capability
10,000 with a master's degree or better
3,000 LGBT parents with a child under 18 living at home
5,000 legally married same-sex couples
Experience with LGBT youth research (in partnership with an institution and IRB approval)

Need to know…? Ask our 70,000+ LGBT Panelists
Download and print CMI's 2016 LGBT Panel Profile sheet.
To join CMI's LGBT Research Panel, please click here.